***UPDATE: We have winners! Tracie2667 wins the gift card and Sdylion gets to choose one of my books! Congratulations! I'll be in contact with you both later today.
And thank you everyone for playing along and making this such a fun hop! Come again :) ***
Wow, it's been a year and we are back in wonderful spring, the perfect time for the second annual Authors In Bloom Blog Hop.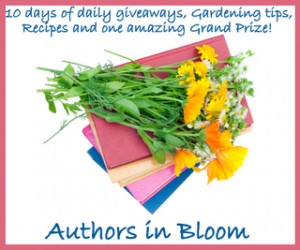 This is one of my favorites hops because along the way you can collect recipes, garden tips, all kinds of prizes (books, swags, garden items and more), as well as GRAND PRIZES: Kindle Fire or Nook along with a $25 gift card. Woot! (Check the end of the post for MY giveaway!)
Not only that, the garden theme is perfect for my upcoming release THE DJINN IN THE MIRROR, which is based on the question: what if Cinderella had to deal with a wicked sexy genie instead of a fairy godmother?
(My inspiration for the djinn or genie)
The heroine DAHLIA (note the flower-inspired name?) comes from a family of earth witches and, wow, can she make a garden grow!
(My inspiration for Dahlia)
Here's an excerpt for you to enjoy:
All night she dreamt of green things growing. Blades of grass spearing skywards, trees spreading their branches and unfurling new leaves, vines climbing and creeping forward, with beautiful pale white blooms opening wide under the moonlight.
In the middle of it all, Ashmael and her. On the ground, naked, pale and golden bodies entwined, rubbing, sliding and rocking together. The air reverberated with their soft sighs and strangled moans, whispers of desire.
While it was a welcome break from the nightmares of the kris, her fertile, fecund dream garden didn't leave her well-rested. She awoke yawning and her body dragging and weary. Or perhaps, the gritty itch in her eyes came from crying herself to sleep. Whatever the reason, Dahlia's heart slumped, weighed down by sadness and a strange aching need.
She padded over to her window to let in some morning light. Perhaps that would cheer her up. As the outside world came in focus, Dahlia gasped. Instead of a pretty little cottage garden with carefully tended and planned beds of flowers, herbs and fruit trees, a jumble of unruly plant life had taken over the cottage garden during the night. The bougainvillea trees, which had been much shorter just yesterday, now almost blocked her window. A riot of orange, purple and red flowers with white stamens nestled among leaves and pale long thorns sprouting from twisty thin limbs.
"Oh. My. God." Dahlia ran out of the room, holding up the edges of her night dress so she didn't trip.
She burst through the front door and confronted a jungle, all around her and over her, tangles of overgrowth hid the road from her. Ferns, grasses, bushes, mango trees and coconut palms spilled and tripped over each other. Birds called to each other in different songs as if playing an elaborate game of peek-a-boo among the foliage. The air steamed and the musky scent of earth and grass mixed with the sweet perfume of roses, jasmines and lilies. Every breath intoxicated her.
I hope you enjoyed the sneak peek!
Dahlia also grows her own herbs and fresh produce for the dinner table. One of her favorite recipes is a simple vegetable toss that still lets the garden-grown flavors shine.
Citrusy Veggies
salt and pepper to taste
3 to 4 Tablespoons fresh lime juice
2 Tablespoon olive oil
1 teaspoon fresh, chopped oregano or 1/2 tsp dried oregano
1 teaspoon fresh, chopped cilantro
4 cups sliced, steamed mixed vegetables such as zucchini, asparagus, corn, and tomatoes
1. Drain the steamed vegetables, and place in a bowl to cool.
2. Mix lime juice with oil. Add oregano, and cilantro and combine.
3. Pour lime juice mixture over cool vegetables and mix well.
4. Season with salt and pepper. Serve.
The Djinn In The Mirror will be available later this month!
Until then leave a comment with your e-mail and enter the rafflecopter giveaway! Two winners will be randomly chosen and announced on April 20.
Grand prize winners will be selected at random from the comments sections of participating blogs!
a Rafflecopter giveaway
Also, don't forget to visit the other Authors In Bloom Blog Hop participants!