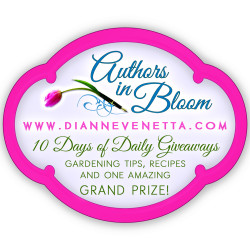 I adore spring and one of my favorite ways to celebrate (as a writer) is by participating in the annual Authors In Bloom blog hop put together by author Dianne Venetta. It's just a great way to get some gardening tips, pick up recipes, learn about new books and win some awesome prizes.
As it happens, Rayez, the hero of A CHRISTMAS WISH (my most recent release) is a chef and he's totally into seasonal cooking. My inspiration for Rayez, who is also an exiled fire djinn (genie), is the very hunky actor Dwayne Johnson.
So what would Rayez whip up to celebrate Spring? A simple, refreshing salad with different types of peas. :)
This simple, but satisfying, combination of sugar snap peas, snow peas and baby peas is crisp and green. A dish that seems to signify spring. You can add heft to it, by adding in cubed ham and shavings of a hard cheese like parmesan or manchego.
1 tablespoon minced shallot
1/4 cup fresh basil leaves, cut into slivers (a mix of basil & mint is also nice)
1 tablespoon lemon juice (you can add more to taste)
1 tablespoon Dijon mustard
1/4 cup extra-virgin olive oil
Salt and freshly ground pepper
1/2 pound sugar snap peas
1/2 pound snow peas, halved crosswise
1 10-ounce box frozen baby peas, OR 2 cups of fresh shelled peas
Bring a large saucepan of salted water to a boil.
Fill a large bowl with ice water.
In another large bowl, whisk the shallot, basil, lemon juice, and mustard together. Whisk in the olive oil until emulsified. Season with salt and pepper.
Add the sugar snap peas to the boiling water and blanch for 20 seconds. Add the snow peas and cook for 20 seconds. Add the frozen baby peas and cook for 20 seconds longer, until the sugar snaps and snow peas are crisp-tender and the baby peas are heated through.
Drain and immediately transfer the colander to the ice water to stop the cooking. Drain again and pat the peas dry. Add the peas to the dressing, season with salt and pepper, and toss to coat. Serve.
Now a bit about Rayez's story....
Won the Novella division of the 2015 Gayle Wilson Award of Excellence
*This is an enhanced and expanded version of a story previously published as Sealed With A Kiss in the Alphas Unleashed anthology.*
Rayez, a smoking hot chef and fire djinn in exile, lands himself in deep trouble (at the bottom of a beer bottle) when he tries to help a mysterious beautiful woman.
Selene is pursued and desperate. She'll do anything to keep her brother safe--including capture a djinn.
While deception brings them together, dangerous enemies make them unlikely allies. Can one gigantic wrong lead to two rights and true love?

*Also included are some of the recipes Rayez made in the book.*
Blog Hop Prizes:
My prize is a $5 Amazon gift certificate for one person who comments on this post, chosen at random. Be sure to leave your email address so I can get in touch with you.
The hop grand prizes: To win, visitors must hit each and every author on the hop. Grand prize is an ereader of their choice (up to $200
value) with second prize a $25 gift card to the ebook retailer of their choice.
The blog hop runs April 8 through 17, 2015.
Now check out all the other participating blogs: